How many sellers are there on Amazon?
According to Amazon, there are over two million third-party sellers on its platform worldwide. This number is constantly growing as Amazon continues to expand its reach and attract more and more sellers. Amazon claims that it attracted an additional 300,000 sellers in 2017 alone. This brings the total number of sellers on Amazon to over two million. These sellers offer millions of products to customers in more than 100 countries around the world. Amazon also provides a variety of services to these sellers, such as Fulfillment by Amazon, Amazon Marketplace Web Service, and Amazon Advertising. It is clear that Amazon is a major force in the e-commerce world, and its two million plus sellers are a testament to its success.

Boosting Businesses
Third-Party Sales on Amazon Over History
You may recall that Amazon began as a bookshop if you've been a customer for a long enough period of time. Even though Amazon began as a bookshop, it swiftly expanded into a store that sold everything, from CDs and DVDs to TVs, iPods, and more. But the website didn't really take off and become a shopping mainstay in homes all around the country until Amazon introduced its Marketplace function.
Amazon started accepting sales from third parties in 2000 after introducing its Marketplace service. Buyers were previously restricted to what Amazon happened to have for sale because Amazon controlled all listings on its website.
The company made sure that customers could find anything they were seeking for in one easy location by enabling third-party retailers to advertise things for sale on Amazon.
Today, nearly 48% of all sales on Amazon are made by independent third-party vendors. With so many third-party sellers on Amazon flourishing in the modern marketplace, this number is always increasing and expanding the already enormous range of goods that Amazon sells.
How many Amazon sellers signed up in 2023?
In 2023, a total of 522,000 sellers have joined Amazon, which equates to an average of about 2,424 new sellers per day. Based on this rate, it is estimated that Amazon will have a total of 700,000 new sellers by the end of the year.
A breakdown of active Amazon sellers in each country:
United states: 1.13million
United Kingdom: 293,578
Australia: 25,547
Canada: 191,135
Germany: 251,875
Spain: 217,513
Italy: 285,751
Mexico: 57,337
India: 215,734
France: 227,547
UAE: 21,857
Brazil: 19,671
Japan: 197,473
Turkey: 7,574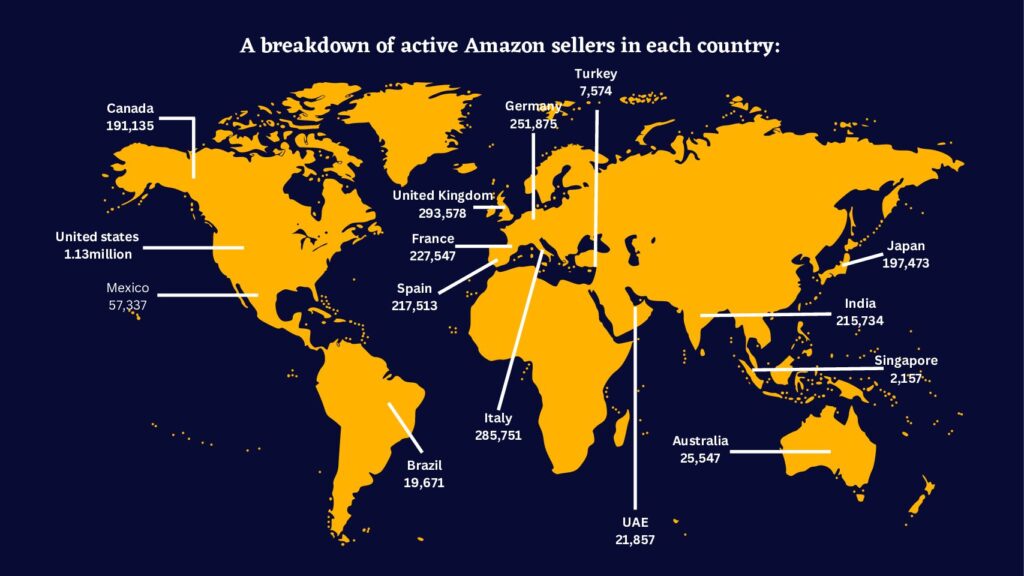 Trusted by some of the biggest brands